Hello!
our long wished project, a stage for clowns and all sorts of non serious improv shenanigans launches on the 17th December, 19h03 at Kulturkiosk Stuttgart!

Here is the invitation in German, you fuckers 🙂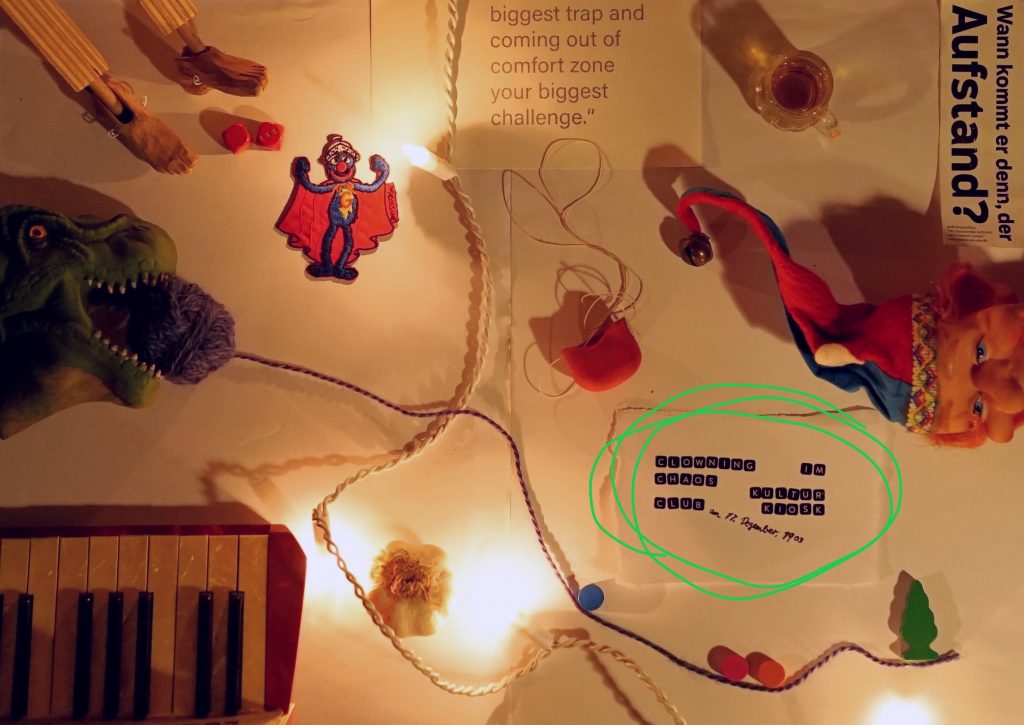 Einladung zum CLOWNING CHAOS CLUB 17.12.
19h03 – 20h16
im Kulturkiosk
Eintritt frei in den Hut

Das lang fantasierte Flausenformat einer Bühne für Quatsch wird nun unter dem Namen Clowning Chaos Club den Auftakt feiern. Es gibt dort Material (von Seide über Gift bis Ast) und eine Bühne. Und auf der ist vieles möglich: fertige Skizzen, geschriebene Impro, im Moment entstehende Szenen; Musik, Clowning, Performance, Lesung, Theater… allein, zu zweit, mit allen.

Hintergrund?
Durst auf schnelles, blödes Improvisieren vor Publikum inspiriert von einer Clowning Stage, dem Wig Wam Wonder Jam (Edinburgh Fringe).

Und wir?
Wir (das sind zwei drei Fringe-Fans plus die erstbesten lustigen Menschen in Stuttgart) wollen das auch.
Wir wollen, noch pandemiegeschädigt und in Ermangelung eines solchen Formats, mehr schnelles Ausprobieren vor Publikum.
Wir haben einen Ort, dessen Boden zu unserer Bühne werden kann (und eine Bar ist toll)
Wir finden, dass eigentlich alles möglich ist.
Wir freuen uns sehr auf euer Kommen!
Wirklich!

Doch noch mitmachen? Meldet euch bei mir!